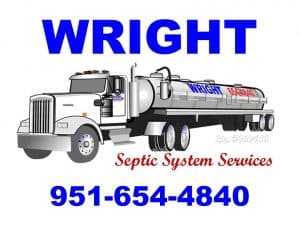 Got a question, comment, or concern? Contact Wright Septic today!
Wright Septic
511 N Dillon St.
San Jacinto, CA 92582
(951)654-4840
From septic tank installations and repairs to commercial hydro-jet tank cleaning, you can trust our experienced technicians at Wright Septic. Moreover, our septic specialists have been delivering the highest quality septic services for over 55 years. Not to mention that by using state-of-the-art equipment and high-quality materials, we have earned our clients' trust.
Contact us today for all your septic needs.  Alternatively you can also connect with us on Facebook to learn more!
1. WHAT INFORMATION DO WE COLLECT?
Personal information you disclose to us
In Short: We collect personal information that you provide to us such as name, address, contact information, passwords and security data, and payment information.
We collect personal information that you voluntarily provide to us when registering at the expressing an interest in obtaining information about us or our products and services, when participating in activities on the (such as posting messages in our online forums or entering competitions, contests or giveaways) or otherwise contacting us.
The personal information that we collect depends on the context of your interactions with us and the , the choices you make and the products and features you use. The personal information we collect can include the following:
Credentials. We collect passwords, password hints, and similar security information used for authentication and account access.
Social Media Login Data. We provide you with the option to register using social media account details, like your Facebook, Twitter or other social media account. If you choose to register in this way, we will collect the Information described in the section called "HOW DO WE HANDLE YOUR SOCIAL LOGINS" below.
All personal information that you provide to us must be true, complete and accurate, and you must notify us of any changes to such personal information.
Information automatically collected
In Short: Some information – such as IP address and/or browser and device characteristics – is collected automatically when you visit our .
We automatically collect certain information when you visit, use or navigate the . This information does not reveal your specific identity (like your name or contact information) but may include device and usage information, such as your IP address, browser and device characteristics, operating system, language preferences, referring URLs, device name, country, location, information about how and when you use our and other technical information. This information is primarily needed to maintain the security and operation of our , and for our internal analytics and reporting purposes.
Like many businesses, we also collect information through cookies and similar technologies.
Read More About Our Privacy Policy Here.